Goce Cvetanovski
Award-winning director and producer from Macedonia. He studied cinema and has lived in Paris, France since 1998. Directed and produced about 20 short films, screened at over 100 film festivals in the world. A big comics fan, in 2014 he becomes co-founder of the comic books publishing company "Komic Brew" based in Scotland, UK. In 2015, he becomes creative director of Lynx Animation Studios and returns to Macedonia to live his dream and work in a 2D animation studio. At the moment, Goce is preparing start of production of the first Macedonian feature animation ever, the space-opera comedy "John Vardar vs the Galaxy".
Dragan Dimcic
Born on 24th December 1967 in Belgrade. Graduated film and TV editing at the Faculty of Dramatic Arts and Master of Multimedia Arts at the University of Arts in Belgrade. Since 2003, he is a lecturer at the School of Electrical and Computer Engineering of Applied Studies, and since 2018 he is an associate professor at the Department of Montage at the Faculty of Dramatic Arts in Belgrade. Author and editor of video works and film installations, as well as texts about editing and film language.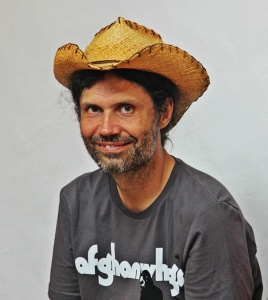 Ivan Ramljak
Born on 25th August 1974 in Zagreb. In professional life, he launched one student radio, cultural club and film festival, also organized plenty of concerts and film screenings, filmed dozens of films that were screened at hundreds of festivals around the world and wrote a few hundred film reviews. He also worked as a journalist and editor for many printed media. He is currently curator of the Short Tuesday at Tuškanac cinema in Zagreb, art director of the Tabor Film Festival and also working on a several new films.