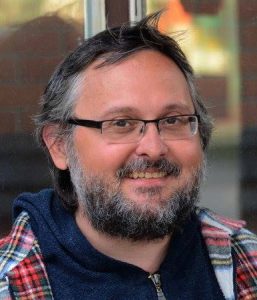 A WORD FROM THE SELECTOR
Considering one-minute films, most of this year's program consists of works by domestic authors. Nine years ago, there were almost no domestic productions at the first edition of the festival, and now the largest number of the shortest films in the world (ten) arrived from Serbia. Authors Nikolina Santovac, Zoran Ilic, Petar Backonja, Lazar Backonja, Zeljko Petrovic, Katarina Sapun, Nikol Jagec and Milica Stojanovic participate in the competition for the best domestic/Serbian one-minute film, as well as for other awards in the selection (except for the award given exclusively for the best foreign film).
As for the general impression of the films, the feeling of a global crisis in which environmental, health, economic and political troubles seem to follow each other, seems to have formed a kind of distance of the authors towards the world around them. Descriptions of anxious social conditions and melancholic poetic feelings show the absence of political pragmatism in the engaged character of their work. It seems that these films offer a motive for public discussion and theoretical analysis even more than the practical meaning of their own production. Therefore, having in mind the fact that the editing-directorial method of Professor Slavko Vorkapich served as an inspiration to many film theorists, as well as our desire for the festival to be as adequately theoretically accompanied (to the extent that it inspires the practice of making one-minute films), we dedicate the new edition of the festival to written and oral interpretations of the seventh art, both on film and around film. Mister Vorky, Book Nine: Theory and Film.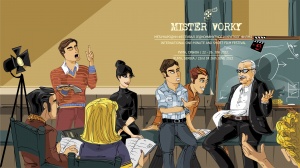 9. MISTER VORKY – SELECTION of one-minute films 2022.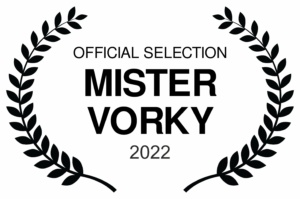 Voda/Water
Director: Katarina Sapun
Serbia, 2021, Dokumentary
2.Shadow play
Director: Chris Furby
United Kingdom, 2021, Experimental
Cuilcagh
Directors: Paweł Kleszczewski, Katarzyna Zimnoch
Poland, 2021, Animation
Miss You Too Daddy
Director: Namo Safideen
Sweden, 2021, fiction
Breathless
Director: Christian Schneider
Portugal, 2021, Experimental
To accept myself
Director: Tatyana Tyo
Uzbekistan, 2021, Animation
우리집/ Our Home
Director: Finn Harvor
Republic of Korea, 2021, Experimental
Each Had Their Roll
Director: Brett Russell
United States, 2021, fiction
Just a show
Directors: Mustapha Benghernaout, Boukef Mohamed Taher Shawki
Algeria, 2021, Animation
Dance With Samantha
Director: John Watson
Canada, 2021, Experimental
I remember Heidemarie Schwermer
Director: Zoran Ilić
Serbia, 2021, Experimental
News
Director: Sayed  Mohsen Hossaini
Afghanistan, 2021, Documentary
The Circle
Director: Behzad Yaghmouri
Iran, 2020, Animation
I just need love
Director: Jake J. Meniani
United Kingdom, 2018, fiction
Pandemic
Director: Direk Bee
Philippines, 2021, Experimental
Family affair
Director: Malikakhon Zaynutdinova
Uzbekistan, 2022, Animation
Camilla Can Cantata
Director: Ebba Jahn
Germany, 2021, Experimental
Translation
Director: Omer Faruk Baran
Turkey, 2022, fiction
Damola in Her Mother's Dress
Director: Adedolapo Boluwatife Abimbola
Nigeria, 2019, Experimental
Bad Dog/Bad Cat
Director: Molly Brown
United Kingdom, 2022, Animation
Šetnja i razgovor/Walk and talk
Director: Petar Bačkonja
Serbia, 2022, fiction
 Insert
Director: Hassan Mokhtari
Iran, 2021, Experimental
Working From Home
Director: Molly Brown
United Kingdom, 2020, Animation
Nine
Director: Behzad Yaghmouri
Iran, 2020, Experimental
I am eighty years old
Director: Roman Sinitsyn
Russian Federation, 2021, Documentary
TKO
Director: Oliver Smith
United States, 2021, Experimental
Rebel Hall
Director: Hassan Mokhtari
Iran, 2021, Animation
All of Us
Directors: Pär Sparresäter, Isabelle Hyrske
Sweden, 2022, fiction
One Day it Snowed in Cairo
Director: Reham Emam
Egypt, 2021, Experimental
Fried Chicken Mask
Director: MCR/ELECTRIC OTTO
United States, 2020, Animation
5 Јулија/5 Julias
Director: Milica Stojanović
Serbia, 2022, Experimental 
Antactica in 1 min
Director: Jivko Konstantinov
Bulgaria, 2020, Documentary
Chronos
Director: Emmanuel Dubois
France, 2020, Experimental
Dilemma
Director: Reza Golchin
Iran, 2022, documentary
Thank you
Director: Gustav Lillebror Ekander
Sweden, 2022, fiction
A moment of silence
Director: Konstantia Sofokleous
Cyprus, 2021, Animation
Spookids
Directors: Vivianne Steiner, Aurélie Schneider, Lucie Schneider, Claire Walka
France, 2021, Experimental
Ask The Super 8 Magic Ball
Director: Jonathan Riles
United States, 2022, Animation
A thousand kisses deep
Director: Kang Le
Taiwan, 2022, Experimental
The True Story
Director: Erdal Eren
Turkey, 2022, documentary
 Maramice/ Tissues Issues
Director: Lazar Bačkonja
Serbia, 2022, Animation
Save the bees
Director: Nikolina Santovac
Serbia, 2022, Animation
Grace
Director: Ardian-Christian Kyçyku
Romania, 2022, Experimental
It´s going to be here
Director:  Amaia San Sebastián
Spain, 2021, Fiction
Syzygy
Director: Kunal Biswas
India, 2022, Experimental
Market Alive III
Director: Finn Harvor
Republic of Korea, 2021, Documentary
Ligeia
Director: Francesca Svampa
Italy, 2022, Experimental
Klubok
Director: Surayyo Tashpulatova
Uzbekistan, 2021, Animation
Scent 
Director: Sezgin Yüzay
Turkey, 2021, Experimental
Sheep
Director: Dmitry Dias
Latvia, 2022, fiction
it's time
Director: Benna Gaean Maris
Belgium, 2020, Experimental
IG appear
Director: Dunja Janićijević
Serbia, 2022, Experimental
The Crumbs
Director: Stanislav Domanský
Czech Republic, 2022, Documentary
Happy Birthday
Director: Dale Zhou
United States, 2020, Experimental
Alisia
Director: Francisco Hervada Martín
Spain, 2021, Fiction
Vortex
Director: Shrikant Prabhu
India, 2021, Experimental
Futile Attempts
Director: Evgeniya Papina
Uzbekistan, 2022, Animation
Stroke / Woman
Director: Elvert Bañares
Philippines, 2022, Experimental
Summer morning/Ljetno jutro
Director: Stanka Gjurić
Croatia, 2021, fiction
Idea
Director: Ebba Jahn
Germany, 2021, Experimental
Breaking News
Director: Janne Tavares
Sweden, 2021, Experimental
Alone On The Beach/ Sam na plaži
Director: Zoran Ilić
Serbia, 2021, Documentary
The Killing Beauty
Director: Weiss Majewski
Lithuania, 2022, fiction
Field Pig
Director: Robert David Duncan
Canada, 2020, Experimental
The Letter/ Pismo
Director: Mija Žnidarič
Slovenia, 2022, Animation
Momentum
Director: Nichita Boico Gaghen
Israel, 2021, Experimental
Drzewo z białymi kwiatami/Tree with white flowers
Director: Roy Maltby
Poland, 2021, Documentary
Ina blink of an eye
Director: Anabela Costa
France, 2019, Animation
Borders
Director: Reham Emam
Egypt, 2019, Experimental
Winter — solitude
Director: Finn Harvor
Republic of Korea, 2021, Experimental
Pollen
Director: Weiss Majewski
Lithuania, 2020, fiction
Fur hat is not just a hat
Director: Željko Petrović
Serbia, 2022, Animation
Three days
Director: Luis Alberto Martín
Spain, 2021, Documentary
Alive
Director: Bastien Leblanc
France, 2021, Experimental
The cocoon thread
Directors: Ivo Reis and Vanessa Fernandes
Portugal, 2021, Experimental
Papercut
Director: Marina Fastoso
Italy, 2020, Experimental
October Eleventh
Directors: Damian Gonzalez and Jeremy Weinstein
United States, 2022, Experimental
Pandora
Director: Kamran Hooshmandian
Iran, 2022, Experimental
Supply
Director: Pierre Yves Clouin
France, 2019, Experimental
GodardLess
Director: Ali Najafi
Iran, 2021, Experimental
Vision of venus
Director: Nikol Jagec
Serbia, 2022, Experimental